Authentic, West Indian Cuisine & Hospitality
The Atlantis has gathered a strong following for its famous Barbadian buffets served on Wednesdays and Sundays.
Our chefs take pride in creating menus using only fresh local produce, seafoods and meats.
A Wonderful Place for Special Occasions
The restaurant at The Atlantis Historic Inn is open daily for breakfast, lunch and dinner with the exception of Sunday nights most of the year. Sunday night dinner service will be available from Sunday November 3rd 2019 to Sunday March 29th 2020. Reservations are strongly encouraged especially for our buffets, to avoid disappointment.
Our famous West Indian Buffet Lunch is offered every Wednesday and Sunday and is very popular with locals and visitors. The menu is varied and offers authentic Bajan and Caribbean cuisine using fresh local ingredients prepared by our culinary team.
Our Breakfast and Lunch Menus, Kids' Menu, Dessert Menu and Wine & Drinks List are posted below. Our À La Carte Dinner Menu changes every week; please contact us for the most current one.
The restaurant has the capacity to comfortably accommodate 120 persons on the inside and 120 persons on the outside deck. The Atlantis Historic Inn is a wonderful place for a special occasion, whether you're celebrating a birthday, wedding or family reunion. Contact us to receive more information on our Function Packages.
Please view our menus below: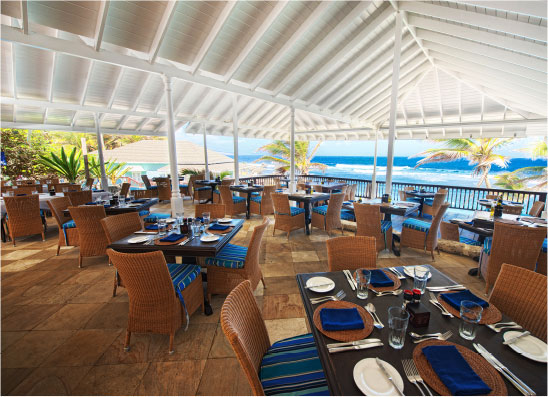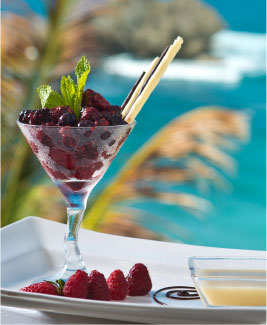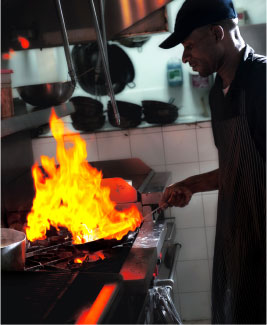 Make A Reservation
Opening Hours

Breakfast: 08:00hrs - 10:00hrs

Lunch: 12:00hrs - 3:30pm
West Indian Buffet Lunch -
Wednesdays and Sundays

Dinner: 17:00hrs - 20:00hrs
Closed for Dinner on Sundays
Please Note
Your reservation is NOT confirmed until we have replied to you by email or phone.
All prices in Barbados dollars (USD$1 = 1.98 BDS$).
Prices include VAT.
A service charge of 10% will be added to your bill.
We accept VISA, MasterCard or Local Debit Cards only.
Please advise wait staff of any allergies before you place your order.
Seating requests will be acknowledged but are NOT guaranteed.
We can provide transport to and from your hotel for USD$10 per person.
We do not take 1:30pm bookings.

(Minimum of 5 persons). Please ask for details.
Atlantis Historic Inn Buffet Deposit Policy
Effective December 1st, 2018
For Buffet Breakfast Reservations of 6-11 persons, a deposit of $250 BBD is payable to confirm the booking.
For Buffet Breakfast, Buffet Lunch and Buffet Dinner Reservations of 12-19 persons, a deposit of $500 BBD is payable to confirm the booking.
For Buffet Breakfast, Buffet Lunch and Buffet Dinner Reservations of 20+ persons, a deposit of $1000 BBD is payable to confirm the booking.
All Deposits are fully refundable if cancelled 48 hours or more prior to the reservation time.

The Perfect Place To Get Windswept
This hotel is slightly off the beaten track but an ideal base for those who want to spend a few days in peace and quiet. Not much of a beach and swimming in the sea not advised unless of course you enjoy surfing, in which case you are in heaven! The hotel has its own pool and a lovely restaurant with stunning views of the Atlantic coast.
maxhill - United Kingdom
Our Instagram